A Phone System and good bandwidth is vital to every business !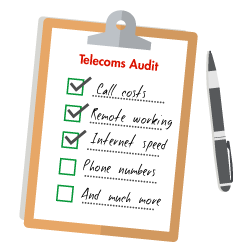 But are you getting it right, check with a no obligation telecoms audit !
We would like to offer your business a analytic telecoms audit, we will start with your current phone system and bandwidth. While you might be happy with your existing system and provider, it's always good to know what options are out there and what improvements and savings are possible?  Most importantly old systems can be upgraded for far less cost with a hosted telephony solution.
During the no obligation, audit we will evaluate:
Call costs
Features Advantage & Benefits is your business being left behind?
Infrastructure, using older equipment is fine, after all it still works? Or is it?  However are you aware upgrading to state-of-the-art infrastructure will reduce your annual spend and drastically improve your engagement strategy and SLA's?
Internet speed, again there are many options now, even if your business is rural !
0800 Numbers, or International Toll Free Services (ITFS), can make a drastic difference to the number of enquiries.
Free Conference Facility, you should have the benefit of an intuitive secure and time saving conference service !
And more so much more …
We provide complete cloud communication solutions to over 30,000 customers and we own and operate our own VoiP switch and network.
Typical improvements established in a free telecoms audit include:
60% reduction in call costs – Instant saving
Improved employee motivation – Providing remote working opportunities
Increase customer satisfaction – Never miss a call – communicate via your customers device of choice (1:1 Messenger & Chatbots)
Expand your presence – National and international numbers & FreePhone numbers
Increase staff productivity – Access to MIS /Call stats and Call Recording.
So let us show you how the latest allin1number communications suite can re-invent your business.  Contact a member off the Pre-Sales team.  Alternatively call and speak with a professional on 0207 048 8821.